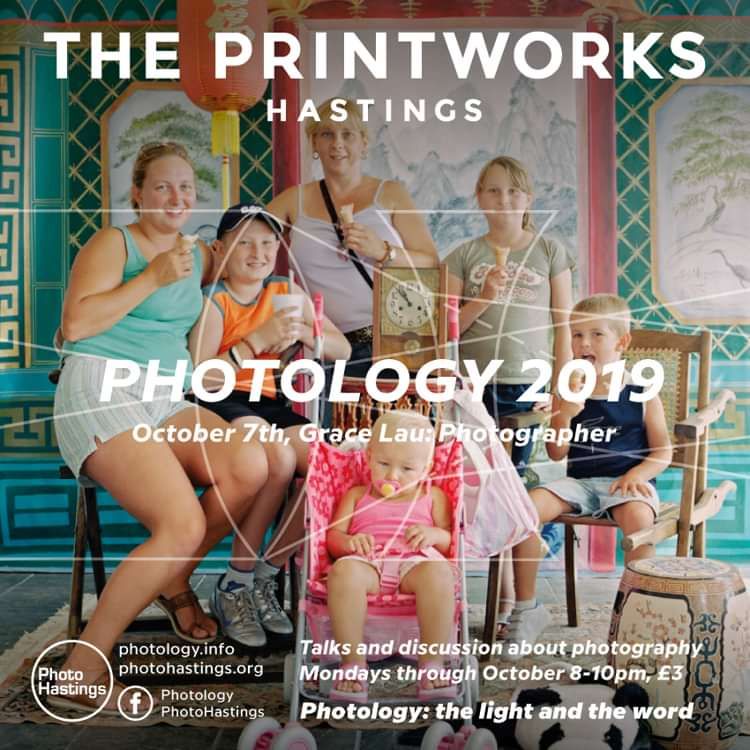 PHOTOLOGY: GRACE LAU @ THE PRINTWORKS HASTINGS
In the summer of 2005, Lau set up a portrait studio on Hastings seafront. Lau wrote recently of the project, 'I am making an oblique comment of Imperialist visions of the 'exotic' Chinese and by reversing roles, I have become the Imperialist photographer documenting my exotic subjects in the 'Port' of Hastings'.
https://photohastings.org/photology-grace-lau-21st-century-types/
"My photography explores the diversity of contemporary portraiture. For me, the traditional representational/literal approach is inadequate. I believe that a portrait can reveal many masks beneath the social face of the subject, and making a portrait is a collaborative process of dialogue and interaction with the subject, taking time to shape the final image/s. An element of personal interpretation is important for me, and this is informed by the context in which my subjects live and pose, being the backdrop to the 'staged' event between us. Research is vital in my work, and involves a close working relationship with my subjects' stories. My intent is to raise awareness of stereotyping and prejudices, to encourage questions and debate; and to respond as an artist to social issues. I am particularly drawn to explore the darker areas of our culture, our history, and our society. I find that there seldom are any ultimate answers, only more questions to be raised. Being Chinese, a feminist photographer, and over 70-years of age, places me outside the mainstream in the UK. Perhaps that position has prompted me to be more interested in the marginalized, the invisible. During my early work around the sub-culture of fetishism, bondage and sad-masochism, I immersed myself in this scene and joined the underground clubs, parties and events, to obtain close-up documentation of the people, the atmosphere and action. My book Adults in Wonderland published in 1997 by Serpents Tail, recounts this ten-year exploratory project, and includes the portraits of my subjects in performative and theatrical context. My later work addresses issues of race and Imperialist history, using the example of Westerners' archival photographs taken in China during the 19th century. I was commissioned by Joint Publishing in Hong Kong to write an illustrated book on this subject in 2004 which is entitled Picturing the Chinese: Early Western Photographs and Postcards of China. Subsequently in 2005, with an Arts Council grant, I created a portrait project whereby I constructed an old Victorian Oriental portrait studio on the Hastings seafront and invited passersby to enter for their portrait. Their modern accessories of mobile phones, sunglasses, plastic shopping bags, ice creams, coke cans, etc., contrasted vividly with the historical studio context to give a conflated history in the final image. This signified my own message, that I was projecting an oblique comment on Imperialists visions of the 'exotic other' Oriental, and by reversing roles I had become the Chinese photographer documenting the exotic modern Western subjects in Hastings as 21st Century Types. Technically I prefer using a film camera to digital, as that's how I learned photography at college. Also, I feel that a film camera can be more creative in terms of the 'hands on' aspect: processing films, examining contact prints and laying out proof prints for editing, cropping and selection. But that's a personal preference. I acknowledge the over-riding popularity and ease of the digital, but I remain a film-camera photographer."