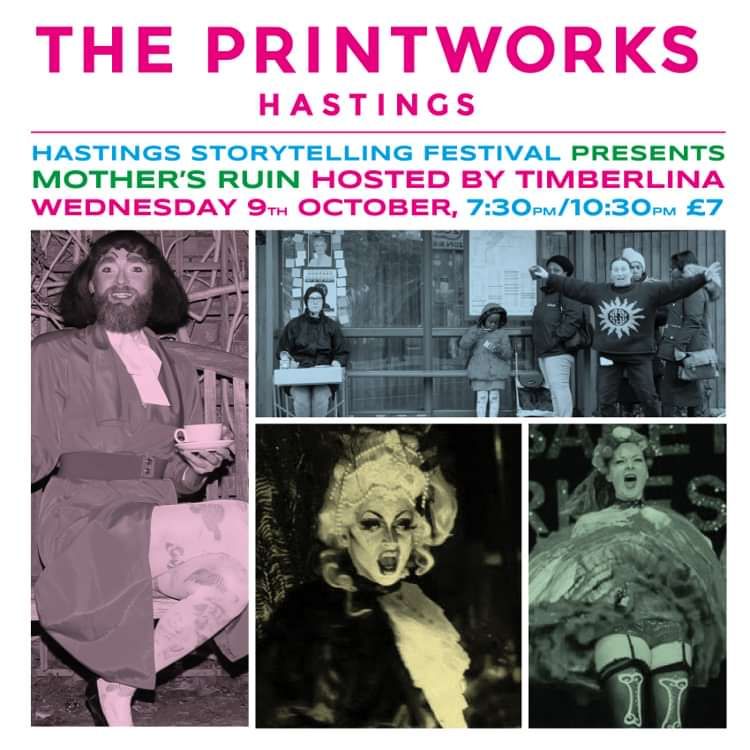 QUEER STORYTELLING FESTIVAL @ THE PRINTWORKS HASTINGS
£7
Entry Requirements: 18+
Buy Tickets
Queer Performance Provocateurs Mother's Ruin return to Hastings' Storytelling Festival with another crazy, unpredictable night of cabaret, stories and performance, this time with a focus on 'Queer Futures'. Hosted by Timberlina and featuring an electric mix of Queer voices both local and shipped in, Mother's Ruin events feature emerging talent alongside established LGBTQ artists.
Barbara Brownskirt, Poet-in-Residence at the 197 bus stop in Penge, is an anarchic cagoule-wearing comedy poetry character who semi-welcomes the audience into her bitter-sweet world of being an (unknowingly rubbish) lesbian poet.
With knees bulging from her trademark pop socks Barbara ruminates on the patriarchy, vegan shoes, Freudian mother-love, her ex-Susan, and her muse, Judi Dench. She is currently working on her 24th volume 'Silent wombs, Tropical moments' about the hot topic of the men-o-pause.
The character of Barbara Brownskirt is written and performed by the prize-winning author of the novel, In Search of the Missing Eyelash Karen McLeod. Her recent solo show, Who Do You Think You Are? Barbara Brownskirt. premiered to a sold out audience at The Marlborough, Brighton Fringe, toured the UK, then culminated in a run at Assembly Rooms, Edinburgh Fringe 2018. Funded by Arts Council England Karen and her comedy alter ego performs with artist Scottee and regularly tours with performance art collaborative Duckie and Southbank LGBT Literary Salon Polari.
"Rik Mayall meets performance art" The Sunday Times
"Hilarious" DIVA
"Totally lovable" DEADLINE NEWS
"I loved it" Carol Ann Duffy, Poet Laureate
"Indefatigable, prolific and utterly unpublishable, Barbara is the manifestation of bitterness, anger, lesbian cliché railing against her lot. Barbara is rubbish, but she doesn't know it." VICE
https://twitter.com/BBrownskirt https://www.instagram.com/barbarabrownskirt/ https://www.facebook.com/BarbaraBrownskirt/ http://www.karenmcleod.co.uk/
The Ooh La Las (Les Ooh La Las) are a troupe of multi-skilled performers from East Sussex who enjoy nothing more than entertaining the crowds, be it with their French Can-Can or Saloon-Girl Shenanigans!
From the working-class Ballrooms of Montparnasse, Paris and the Saloons of Tombstone Arizona; fuelled by either Absinthe or Whiskey, expect buxom beauties & frilly knickers a plenty!
www.oohlalas.co.uk www.facebook.com/LesOohlalas/
Ryan Ormonde grew up in 1066 country and moved with his family to Hastings as a teenager before seeking fame and fortune as a poet in London - haaaaaaa! Having performed for years with poetry collective press free press, and occasionally with queer cabaret legends Duckie and Timberlina, Ryan is now working towards a first full-length poetry collection. instagram.com/ryanopoet
RUBY WEDNESDAY toys with gender and sexuality, creating lip-sync work that explores multiple areas such as mental health, gender politics and consent culture. They also sing live and employ elements of burlesque, drag and fire. They are currently writing an album of original music.
https://www.instagram.com/mxrubywednesday https://twitter.com/MxRubyWednesday https://www.facebook.com/mxrubywednesday
"Outrageously entertaining… bursting with queer comedy mayhem" Manchester Wire
"Mother's Ruin cleverly demonstrates just how radical and contemporary queer performance can be." Mancunian Matters