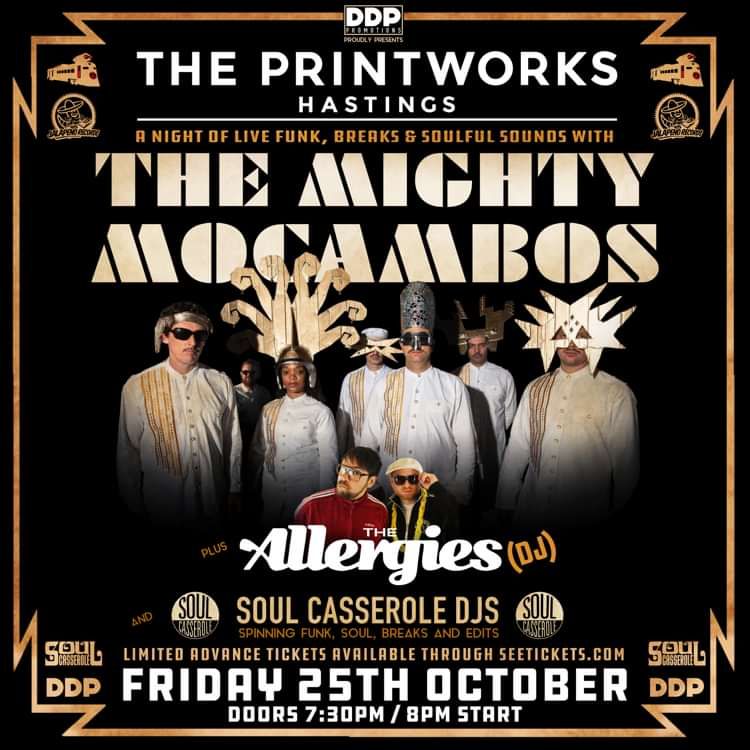 THE MIGHTY MOCAMBOS, THE ALLERGIES & SOUL CASSEROLE @ THE PRINTWORKS HASTINGS
Buy Tickets
The Mighty Mocambos
The Mighty Mocambos and their many incarnations have released dozens of 45s and several albums on their own imprint Mocambo Records and other labels such as Kay Dee, Truth & Soul, Tramp, Légère and Favorite Recordings, to name a few. They have collaborated with musical legends such as Afrika Bambaataa, Lee Fields, Ice-T, Charlie Funk, Peter Thomas or Kenny Dope, put new talent like Gizelle Smith and Caroline Lacaze on the map, brought Caribbean steel drums to funk clubs with their alter ego Bacao Rhythm & Steel Band, and have toured through all civilized parts of the continent and beyond for the better part of the last years.
Their unique style and trademark sound are loved by peers, fans and critics alike and distinguishes them from mere retro-copycat-acts as well as overproduced plastic soul. The Mighty Mocambos continue to deliver their brand of funk with blazing horns, soulful guitars, driving drums and basslines combined with an extra bit of quirkiness. When not producing records for one of their many incarnations and collaborations, the band is touring steadily. Whoever witnessed a concert will tell you about the musicality, passion, energy, humour and joy that the band loves to bring to the people.
The Allergies
"The Allergies are neck deep in the world of scratchy samples…This is truly funk and soul for the 21st century!" – Craig Charles, BBC 6 Music.
Since forming in 2012 The Allergies have made it their mission to reshape funky vintage sounds for the modern dancefloor.
Both skilled turntablists in their own right, and known for their 45 only vinyl sets, the duo of DJ Moneyshot & Rackabeat first bonded over their love of classic hip-hop and beats, then decided to pool their knowledge and skills into making their own music.
"We like breaks, funky basslines, horns, and dancefloor grooves. We're inspired by the golden eras of funk, soul, disco and hip-hop, and we try and cram that into three and a half minutes".
Along the way they've racked up two 'Tune of the Month' awards in Mixmag, topped download charts, and helped headline the BBC 6 Music festival in their native Bristol last year.
In 2015 they were snapped up by Jalapeno Records, and dropped their debut album, As We Do Our Thing, a year later. On release it gained 'Album of the Day' status on 6 Music, and became the bestselling hip-hop album in the iTunes and Juno charts.
The LP took in all their funk, soul, disco, hip-hop and breakbeat influences, and featured guest vocals from HypeMan Sage, BluRum13 and Ugly Duckling's Andy Cooper, who mesmerized in lead single/video, Rock Rock.
The Allergies' second album Push On charged up the UK's official indie album charts on its debut and became album of the week on Juno. The singles started racking up serious plays on BBC 6 Music and BBC Radio 2 in the UK as well as across Europe, with a second 6Music 'Album of The Day' and a coveted 'Album of the Year' award to crown things off in 2017. Not to mention a feature in national paper – The Observer and another album of the year award from Juno Records.
Both Moneyshot and Rackabeat were successful DJ's in their own right before hooking up to form The Allergies. Moneyshot was a long running DJ on Ninja Tune's Solid Steel radio show while Rackabeat was a Drum & Bass producer before being drawn back to the funk.
Ugly Duckling frontman Andy Cooper has been a co-writer and performer on several of the album tracks in a fruitful relationship which has seen the LA resident touring regularly with The Allergies to add some lyrical science to their DJ shows.
SOUL CASSEROLE
These guys have established a reputation for playing right across board of Funk & Soul rarities to classics.
This duo consisting of Dustee Du & Fray Bentos are playing gigs / festivals and private events mainly (to find out more go to www.facebook.com/soulcasserole)
The boys are currently in a bunker studio working on remixes and edits music for a brand new listeners to enjoy – Fray has music out on Katakana records When they are not doing that you will find them hosting a monthly radio show Soul Casserole radio show Saturday 28th September / October Saturday 26th 6pm FUNK / SOUL / DISCO RARITIES
(4th Saturday of the month 6pm -8pm) on www.1btn.fm .