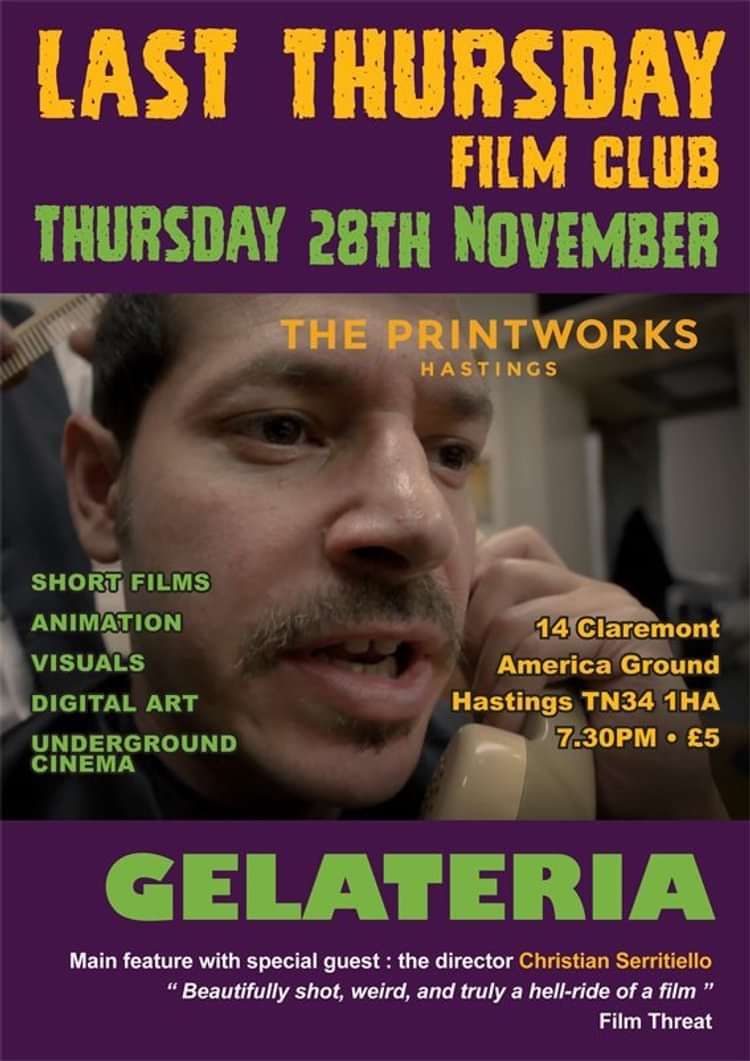 THE LAST THURSDAY FILM CLUB @ THE PRINTWORKS HASTINGS
The (last) Last Thursday Film Club of 2019 presents a programme of amazing short films from local makers plus the Hastings premiere of the stunning short feature GELATERIA from directors Christian Serritiello and Arthur Patching. SPECIAL GUEST STAR Christian Serritiello !
GELATERIA
"Beautifully shot, weird, and truly hell-ride of a film" -- Film Threat
"A surreal picaresque tale. Bravura acting, excellent cinematography and editing" -- Film International
"A stunning piece of abstract cinema" -- UK Film Review
Zbigniew is on a train heading to Zurich accompanied by his loveless partner and knows he has no choice but to jump off the train at the next stop - He hopes this unconventional action will change the course of his life. He then begins a journey to deal with the murky waters of his past and follow through with his deeply held psychological and artistic obsessions. However, the world he now finds himself passing through has other things in store for him. Menacing bourgeois bohemians that bark, performance artists that shoot real guns, caged humans that talk only in the language of birds and fearful townsfolk all stand in the way of him recapturing his essence.