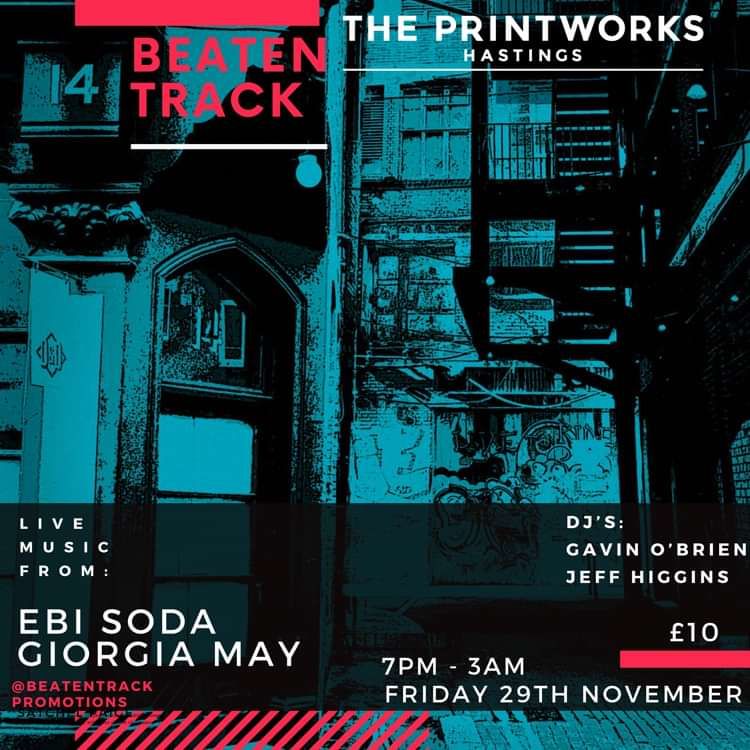 BEATEN TRACK @ THE PRINTWORKS HASTINGS
£5-£10
Entry Requirements: 16+
Beaten Track is a live contemporary jazz party celebrating live and recorded music from jazz and its subcultures, dancing and food. We believe in celebrating diversity and togetherness so this is an all inclusive safe space of party and fun. Going from high energy to higher as the evening progresses into the early hours. We are so excited to have the amazing @ebisoda as our headliners supported by neo-soul artist @giorgiamaay ! Grab your tickets now, we have a few super early bird and early bird tickets available through the printworks' website.
EBI SODA: Staunch anti-traditionalists, Ebi Soda thrive on this idea of contradiction, seeming more inspired by the atmosphere inside a rave than the sounds heard inside Birdland. Their only debt to typical jazz being to attempt to innovate and experiment at every opportunity.
Characterised by erratic drum breaks, multi-effect soundscapes and searing trombone lines, Ebi Soda keep a post-punk DIY ethic close to their hearts, with songs often birthed from sweaty smokey bedrooms rather than that of the big band hall.
GIORGIA MAY: Giorgia-May is a Neo-Soul musician originally from Brighton, UK that has been pursuing a musical career through the means of travel. She combines sensual lyrics, mesmerising tones and exciting arrangements. Her biggest shows to date include support slots for Omar, Mama's Gun & Alex Vargas, as well as her 2017 performance for Australia's Splendour In The Grass festival and Vietnam's biggest arts festival Dao Xuan in 2019. The 2016 EP 'For My Love' can be found on services such as Spotify, iTunes and Apple Music.