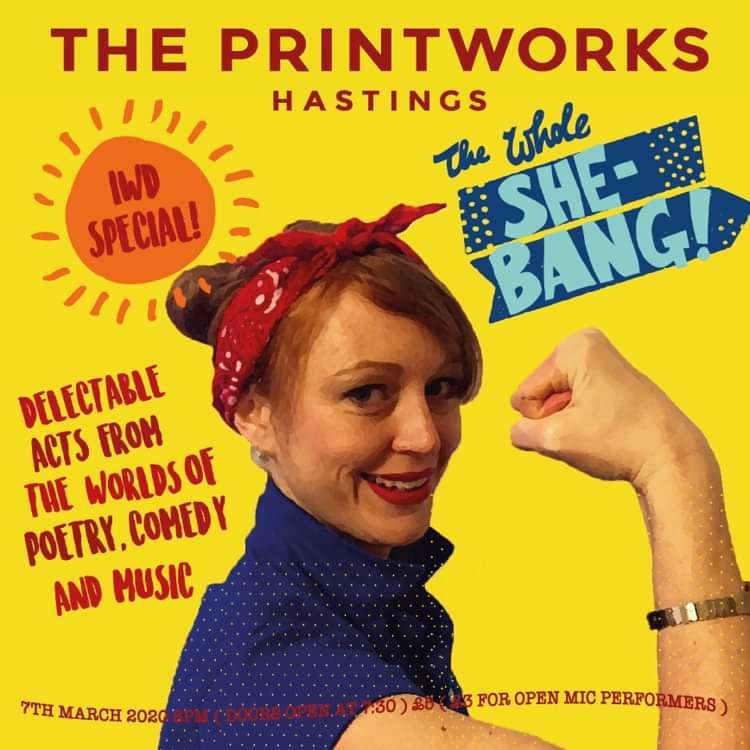 THE WHOLE SHEBANG! @ THE PRINTWORKS HASTINGS
Buy Tickets
The Whole Shebang is BACK! Revealing our VERY SPECIAL Lineup this International Women's Day- we've got only the BEST in spoken word and music, plus games, our 'anything goes' open mic, and DJs till late! This is one not to be missed…
We've got local talent and soulful songstress Elisha Edwards, whose gorgeous voice is matched only by her incredible songwriting talents. She'll be joined by her band, so get ready for some beautiful, classic-sounding RnB, soulful pop and groove.
We've got the doyenne of the spoken word scene, and its queen of lip-synching, Emily Harrison, who explores mental health, gender and class with wit, tenderness, irony and heart-hurting, pinpoint precision. She's someone we've wanted to have down to the Whole Shebang for ages and we are so glad she can join us.
And and and and and..! We have local legend and super-songstress Siddy, a must-hear for her refreshing blend of poignancy and humour, as well as her incredible voice that is both smoky and yet drips with honey- with Bluesy, Folky, Southern Gothic type vibes, she absolutely transports the audience.
Plus- we may well have one more very special guest for you, so keep watching this page for further (exciting) announcements...
All that AND our open mic section (so if you've a song, a poem or a party trick, come and do it on our stage!) AND a silly game with prizes! AND DJs till late playing female/femme/ queer music; be there or be forever regretful.